Shopping Cart
Your Cart is Empty
There was an error with PayPal
Click here to try again
Thank you for your business!
You should be receiving an order confirmation from Paypal shortly.
Exit Shopping Cart
| | |
| --- | --- |
| Posted on January 12, 2017 at 12:45 AM | |
Our medicated cannabis RSO Bath Salts (Detox, Pain, Cold & Flu Blend), our handcrafted RSO Skin Food and Anti-Aging RSO Skin Foods are all now available at the Leave it to Nature dispensary in Shasta Lake, California as well as the collectives in Mount Shasta.
The recipe for the Anti-Aging RSO Skin Food is as follows:
2 tbsp. ozonated organic hemp seed oil
1 tbsp. ozonated organic pumpkin seed oil
1 tbsp. ozonated organic camellia seed oil
1 tbsp. ozonated organic jojoba oil
1 tbsp. ozonated organic macadamia nut oil
1 tbsp. ozonated organic evening primrose oil
2 tbsp. ozonate organic coconut oil
2 tbsp. candelilla wax
1 tbsp. ozoned shea, mango or cacao butters
1 tsp. ucuuba butter (instead of lanolin)
1/2 tsp. organic mango fruit extract
9 tbsp. Mount Shasta Headwaters
2 tsp. organic vegetable glycerin
2-4 grams of RSO (Rick Simpson Oil, Phoenix Tears)
1/2 tsp. vitamin E oil
1/2 tsp. borax
organic frankincense, lavender, geranium, lemon, sage, patchouli, myrrh and carrot seed essential oils
In a small saucepan or double-boiler, add the oils, wax and butters together. Heat until just melted, then remove from heat.
In another pan add the water, vegetable glycerin and borax. Heat and stir until dissolved. Remove from heat.
Stir the oil blend constantly. When it begins to have a salve-like consistency, pour it into a glass blender. Turn it on and pour the water blend into the vortex. It will solidify into a cream.
Mix the vitamin E and essential oils and bottle in glass container
Our regular RSO Skin Food recipe uses organic sesame, sunflower and pumpkin seed oils instead of evening primrose, macadamia nut oil and camellia seed oils.
Following are a list of some of the main ingredients in this blend, and why we chose to include them in the face potion.
Hemp Seed Oil: The fats in hemp seed oil are similar to those found in human skin, making it an effective moisturizer. It provides great protection for the skin while improving elasticity, bringing new life to dry, tired or dehydrated skin. It also contains a very unique fatty acid that regulates hormone levels and calms hormone related skin marks. Hemp oil is very high in vitamins A & E, and also contains trace amounts of vital minerals like potassium, magnesium, iron, zinc, calcium & phosphorus. It also contains high amounts of vitamin D, which allow your skin to absorb things like calcium, which help soften and moisturize it effectively. Some skin conditions are caused by an omega-6 deficiency. Being high in all Omega fatty acids, hemp seed oil is an effective nourishing and soothing oil.
Pumpkin Seed Oil: Pumpkin seed oil is loaded with zinc, vitamins A, C, E, and K, omega 3, antioxidants and fatty acids. It has the ability to fight with acne. This oil diminishes the marks and redness caused by acne. The zinc present in pumpkin seeds is rich in anti–inflammatory and anti–bacterial effects and thus it reduces the problem of acne.The vitamin C and anti-oxidants in pumpkin seed oil slow radical damage.
Camellia Seed Oil: Camellia oil, or tsubaki oil, is rich in oleic acid and vitamins A, B, D and E as well as nourishing Omega 3, 6 and 9. The molecular weight of the oil is an almost identical match for skin, allowing it to absorb quickly and thoroughly.This oil contains more naturally occurring anti-oxidants than almost any other oil.
Jojoba Oil: Jojoba contains nutrients like vitamin E and B, as well as minerals like chromium, copper, and zinc, which all nourish and protect skin from environmental stressors.Jojoba naturally contains a balance of vitamins A, D and E which are known as skin healing vitamins.
Macadamia Nut Oil: Macadamia Nut oil is high in oleic acid,linoleic acid, palmitoleic acid, phytosterols and essential fatty acids. These are anti-inflammatory, very healing building blocks of your skin.
Evening Primrose Oil: Evening Primrose is high in omega-6 fatty acids, including linoleic acid (LA) gamma linoleic acid (GLA). The human body uses LA to produce GLA, which helps maintain stratum corneum cohesion and reduces transepidermal water loss.
Ozonated Coconut Oil: Coconut oil itself is high in saturated fats, capric/caprylic/lauric acids and vitamin E. Being ozonated, it infused this potion with the power of Ozone, pure O3 molecules, which boost the antibacterial, antiviral and anti-fungal properties of this oil greatly while infusing your skin with oxygen.
Raw Bali Cacao Butter: This high quality cacao butter is rich in anti-oxidants, which help fight off free radicals. It is a great moisturizer, protectant and sensitive skin healer.
Ucuuba Butter: Rich in vitamin C, vitamin A, and unsaturated fatty acids, this butter helps heal damage by protecting cellular DNA against damage caused by oxidation. It helps boost collagen synthesis, unclogs pores, reduces fine lines, speeds cell renewal, evens out discoloration and smooths the skin.It helps maintain skin hydration, maintian the equilibrium of skin barrier and is high in phenols with anti-inflammatory, healing and anti-septic properties.
Vegetable Glycerin: Glycerin is an organic compound composed of carbon, oxygen and hydrogen. It is a great toner and moisturizer.
Vitamin E Oil: Both a nutrient and an anti-oxidant, vitamin E is highly beneficial for the skin, especially when combined with other anti-oxidants. It helps skin care products create a great defense system against free radicals and other environmental damaging effects.
Frankincense Oil: Frankincense can actually reduce the appearance of sunspots and age spots. If you have uneven color on your skin, some whiteness in some areas, any spottiness or splotchiness, frankincense oil is the number one ingredient that can help even out skin tone and help get rid of sunspots and age spots.
Frankincense essential oil is a powerful astringent, meaning it helps protect skin cells. It can be used to help reduce acne blemishes, the appearance of large pores and wrinkles. The oil can be used anywhere where the skin becomes saggy such as the abdomen, jowls, or under the eyes. Mix six drops of oil to one ounce of an unscented oil like jojoba oil and apply it directly to the skin. Be sure to always do a small patch area though first to test for possible allergic reactions.
Frankincense has the ability to strengthen skin and improve its tone, elasticity, defense mechanisms against bacteria or blemishes, and appearance as someone ages. Studies have shown that it helps tone and lift skin, reduces appearance of scars and acne, and heals wounds. It can also be beneficial for fading of stretch marks, surgery scars or marks associated with pregnancy, and for healing dry or cracked skin.
Lavender Essential Oil: Lavender helps heal skin conditions, burns and cuts — but also because it specifically targets your skin, gets it in a healing state and improves cellular communication within your skin. Arguably the most dangerous and most common risk factor for every disease that affects Americans, free radicals (toxins, chemicals, pollutants, etc.) are responsible for shutting down your immune system and can cause unbelievable damage to your body, including your skin. You need antioxidants to successfully fight free radical damage, and according to research, lavender essential oil helps your body produce three of your bodies most powerful antioxidants, glutathione, catalase and superoxide dismutase.
Geranium Essential Oil: Geranium oil is an essential oil distilled from the stem and leaves of the geranium plant, not to be confused with its close cousin, the rose geranium. Once prized by ancient Egyptians for its skin-enhancing qualities, geranium oil has made its way into a number of modern-day skincare products. Use the oil by itself to treat acne, eczema, cellulite, stretchmarks, scarring and dry skin.
Lemon Essential Oil: Lemon oil helps boost the anti-bacterial and anti-viral properties of the potion and the vitamin C content.
Patchouli Essential Oil: Patchouli helps regenerate skin cells, prevents scarring, and is excellent for aging skin as it helps tighten and tone sagging skin. It is anti-inflammatory, regulates sebum production, anti-fungal, and helps smooth fine lines and wrinkles.
Myrrh Essential Oil: Myrrh has an extremely powerful anti-oxidant content. It helps maintain firm and healthy skin, boosts the immune system and is helpful to heal damaged skin.
Carrot Seed Essential Oil: This oil is very high in anti-oxidants, vitamin A, E and C. It protects, softens, nourishes and tones skin.
Medicated RSO Bath Salts - Detox, Pain, Cold & Flu Blend
2 parts crushed Himalayan Salt (ours is crushed by hand with a giant chunk of Rose Quartz!)
2 parts Epsom Salt
1 part Calcium Bentonite Clay
1 gram of RSO cannabis concentrate per each 8oz
2+ tbsp organic ozonated coconut oil infused with cannabis
a few drops each of Jasmine, Violet, Rose, Lilac, Eucalyptus, Peppermint, Rosemary, Lemongrass, Siberian Fir Needle, Pine Needle, Vetiver, Holy Basil, Clary Sage, Tangerine, Camphor, Marjoram, Ylang Ylang, Geranium Rose, Egyptian Geranium, Cypress, Desert Sage, Frankincense, Moroccan Blue Chamomile, Lemon & Palo Santo Essential Oils
Use a couple tablespoons of this per bath and you will melt into a pain-free puddle of BLISS!   
These are now available for purchase at the Leave it to Nature dispensary at 5340 Shasta Dam Blvd in Shasta Lake, CA 96019 (530-691-7199)  for $20 and $30 each. They are also available at the collectives in Mount Shasta.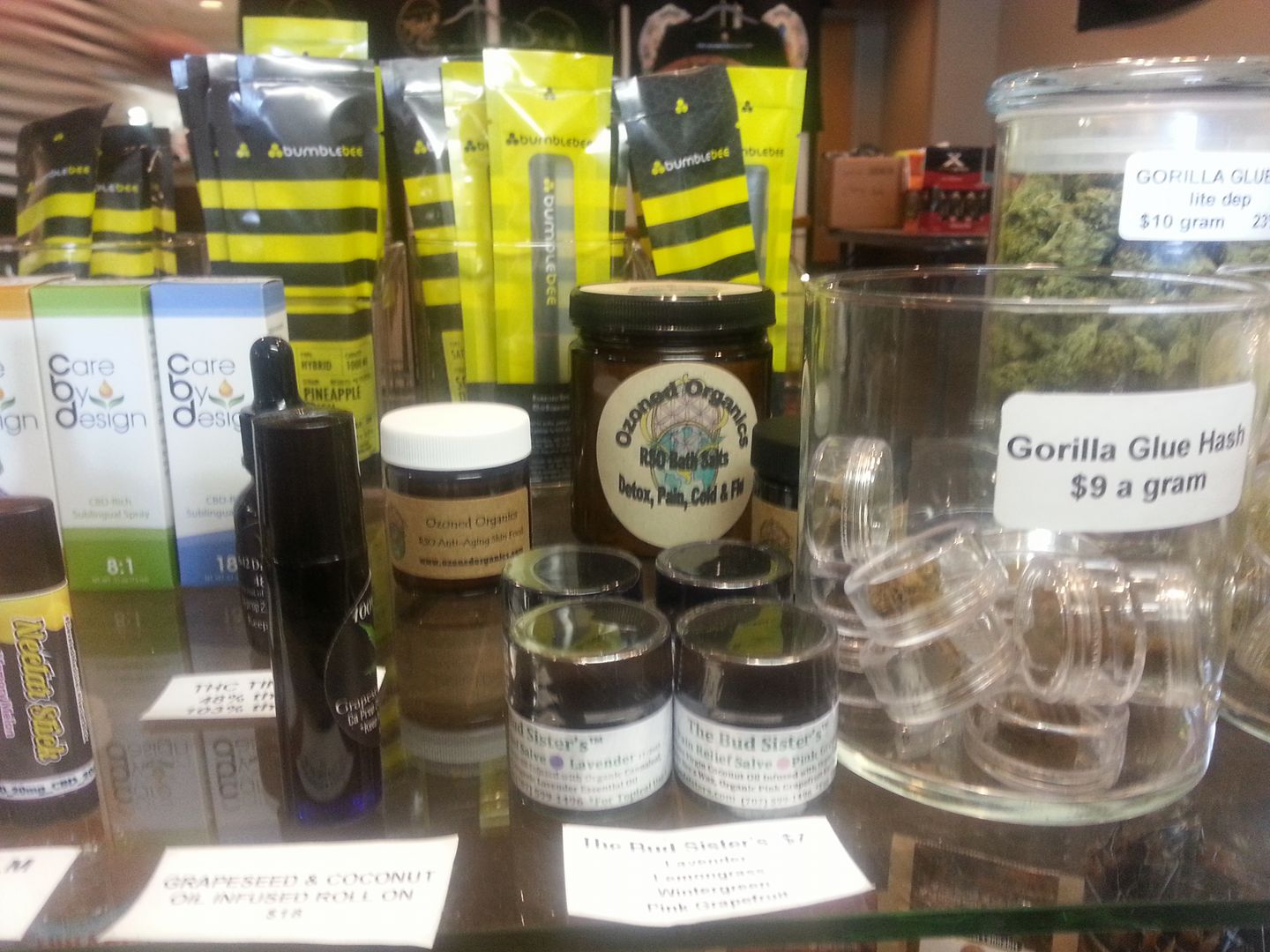 Categories: None
/